About
CUSTOMIZED COURIER SERVICE
Established in 1994
Nick's Quick Delivery, located in the industrial section of Fergus, is a very visible courier service with its distinctive white truck and green lettering. A dedicated team of drivers deliver documents and boxed shipments to vendors and customers, ranging from individuals to corporate businesses.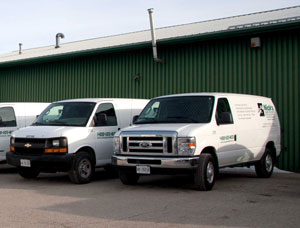 Parcels are delivered to and from the Golden Horseshoe area, which includes Centre and North Wellington, Cambridge, Kitchener, Waterloo, Guelph, Elmira, Mississauga, Milton and Hamilton areas, Toronto, Markham and Scarborough areas.
Nick Bachinski, owner and a community involved Fergus resident, has an extensive background in transportation and warehousing. His dream of owning and operating his own business, Mr. Bachinski decided to take a risk, one that proved worth taking. Nick's Quick Delivery was born in 1994. Today, Nick's Quick Delivery has a fleet of full-size panel vans with logos, one 16-foot and one 24-foot straight truck both with a power tailgate, all working to accomplish the task: quick delivery.
Nick's Quick Delivery offers a direct shipment, quick rush, same day, next day, and two to four day service. Our reputation has been built on being punctual, reliable, and old-fashioned friendly – our trademarks! But isn't UPS pretty fast, or Fed Ex ? What can Nick's Quick Delivery offer that their larger competitors can't ? Besides ready-made schedules, like UPS or Fed Ex, how about CUSTOMIZED DELIVERY SCHEDULES that are coordinated with each of our customers.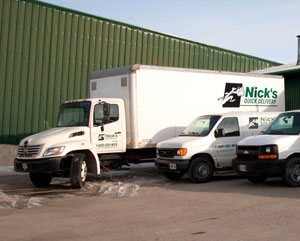 How about discounts on multiple and routine orders? How about further discounts on accounts paid within 7 to 14 days? Large corporations can save big bucks each year with Nick's Quick Delivery, and savings for individuals are also included. Nick's Quick Delivery works out a delivery plan that will suit the needs of your business. In addition, we can develop a flat-rate payment system which allows companies or individuals to control their budgets.
Nick's Quick Delivery operates from 8 a.m. to 5 p.m., Monday to Friday. In addition, corporate clients have access to our on-call emergency courier service from 5 p.m. to 11 p.m., Monday to Friday. Whether you are interested in a one-time, occasional, or routine delivery service with customized time schedules, Nick's Quick Delivery can accommodate your business or individual needs.
Excerpt
Sheila O'Hearn
WHAT DOES YOUR COURIER – DELIVERY COMPANY DO FOR YOU?
Nick's Quick Delivery offers the following:
Guelph, Kitchener, Cambridge, Golden Horseshoe and GTA area
Direct – Quick Rush – Same Day – Next Day -2×4 Day shipments
Regular pick up – Monday – Friday
Fast – Friendly – Dependable Service
Freeze rates for one year (Corporate Account only)
Customized courier / delivery schedule for your needs call back from our office – proof of delivery – by fax or e-mail
Company information
Uniform Driver
Dispatch by Cell Phone – Dispatch by two-way system
Dispatch by text ( Direct by web – need account to access )
Logo Van's (Panel Van and 16 – 24 Ft Straight Trucks with Tailgate
Account Terms
C.O.D or NET 7 – 14 – 30 – EOM 10 – Visa – MasterCard
Discount on monthly statements. – Service Agreement.